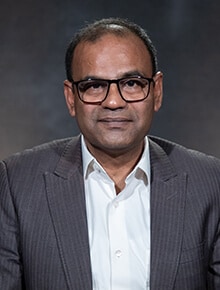 "THE FIELD OF ARTS REQUIRE CONCENTRATION AND THINKING. SO, DISCIPLINE IN THE AGE OF CONNECTIVITY IS IMPORTANT," SHARED MR. KHALID JAMAL AT MASTERCLASS FOR WWI SCHOOL OF MEDIA AND COMMUNICATION
Mumbai, February XX, 2020: Whistling Woods International (WWI), Asia's premier Film, Communication, and Creative Arts institute, recently hosted communications professional, Mr. Khalid Jamal, Director at Orion PR & Digital Pvt. Ltd. for an informative masterclass session. Held exclusively for the students of WWI's School of Media and Communication, and moderated by faculty member, Ms. Oindrila Purohit, the media veteran shared his career journey and insights in the ever-evolving media domain.
The guest began the session by upholding the importance of preparation, while venturing on the path to success, by stating, "Do your work well, however, ensure your homework is done even better." He elaborated on this statement by explaining that in the era of instant knowledge available on the internet, common sense and foresight are the PR professional's best tools. As he emphasised, "If you are not one step ahead, you are not required."
Upon being questioned by a student on the skill set required to succeed in the field of PR, he shared, "The field of arts require concentration and thinking. So, discipline in the age of connectivity is important." He went on to narrate three key skills highly sought after in the industry – the ability to create content, reputation management and preserving a brand's image, and a capacity for media mobilisation and storytelling.
The discussion subsequently evolved to cover the impact of globalisation on PR. In response, the guest outlined the enduring nature of certain forms of storytelling, such as oral media and direct interactions with the public. However, he also noted the impact that consumer revenue has had on the field. A growing demand for value-added content by the audience has led to a great deal of innovation across mediums and domains, and forever altered consumption patterns.
With the session drawing to a close, Mr. Khalid Jamal shared his insights on the way forward for PR, revealing, "PR gives you a new challenge all the time, so you have to be anticipative and prepare for it. Be sensitive to geo-political practices. And establish the truth in crisis."
The session came to an end with a token of appreciation presented to the esteemed guest, as the students displayed their appreciation with deafening applause.