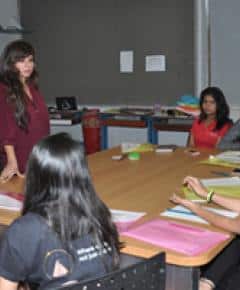 The masterclass conducted by Ms. Babita Malkhani was on Indian Fusion Wear and Styling. In the masterclass she explained the story behind her recent collection called 'Talim' and the execution of the collection. Talim refers to a written code for weaving oriental rugs and carpets devised by early Kashmiri's for the pattern of knotting handmade carpets. Babita Malkani's travels to Kashmir inspired her to work with Windows of Paradise, which form an integral part of the Talim carpets prevalent in Kashmir. She explained the making of the collection to the students, which has an indo-western appeal, also lays emphasizes on constructed silhouettes, signature drapes along with a blend of chic crops, pencil skirts and stylized pants giving it styles to suit the modern sensibilities of today's women.
She also spoke to the students, keeping in mind their upcoming collection for the graduation show, that the students should come up with design which are more practical, wearable, trendy and creative.
Later in the masterclass students had to illustrate 2 design each on the basis of practicality, wearability & trendy, out of which she selected 2 students' design which she really felt was different and creative. Finally, they were shown the technique of a draped dress.