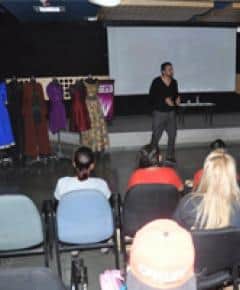 It was pleasure to have Fashion Designer Gaviin Miguel at our campus.
In the masterclass Gaviin not only enlightened the students about difference in pret , bespoke & couture wear but also guided them on technical aspect of each, in terms of the designing and demands of the industry . He spoke about his journey in the fashion industry and all the hardships that he had to face to be a successful designer. According to him it is very important for each designer to have a mark of their own, which will not only make them stand out amongst others but also secure their position in the industry.
Gaviin said, "To be a good designer it's important to be a good human being cause what you are reflects from the clothes that you make. Each design that you make should carry your heart and soul."
In his interaction with the students he spoke about his resent venture, Disney's recreation of the magical Broadway, 'Beauty and the Beast' that was showcased in Mumbai & Delhi. Gaviin was the Costume Designer for the theatre version of the musical. He shared his experience working for a Broadway theme and what it takes for a designer to be versatile but still holding on to that one thing that makes you different from others, your forte.
Overall, it was a very educative, enriching experience for the students to interact with Gaviin Miguel.