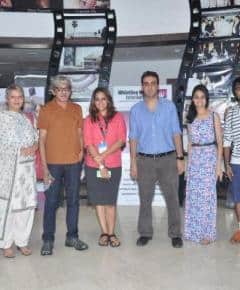 As part of Whistling Woods International (WWI) Film Forum, the stellar team of the crime thriller, 'Badlapur', interacted with over 300 new students of the International Film & Media Institute. Director Sriram Raghavan was accompanied by Pooja Surti (Co-writer and Editor), WWI Alumni Aarambh Singh (Assistant Director), Priyanka Kashikar (3rd Assistant Director), Prashant Ramachandran (assistant Editor) and Roma Kandpal (Production Co-ordinator).
President, Meghna Ghai Puri tweeted, "It was indeed a proud moment to see our own Alumni becoming an integral part of quality films like Badlapur."
Sriram Raghavan's openness and honesty in discussing his failure was profoundly motivational for the students. His honest, vulnerable energy, combined with clarity and fun made the event a powerful tool in understanding the filmmaking process for the students. He said, "Clarity of vision is more important than the camera you shoot it on, how many people are on your crew or how much money you have. If you have that good idea and the drive and vision to see it through, you can shoot a decent film despite of hindrance."
With all the current Indian directors having a certain way of making films, for Sriram Raghavan uncertainty is the place to be.
Aarambh Singh, the Assistant Director of the film and also a WWI alumnus said, "As a creative person, this was the best film to happen to me, because our director would involve us and value our opinion. A piece of art can't be planned, it just happens. My mind as a filmmaker evolved and it certainly was an enriching experience."
While sharing his experience with the current batch of students, Aarambh further added, "I feel extremely proud to come back to Whistling Woods International, which laid the foundation for my industry experience, and share it with my juniors."
The Alumni emphasised on the value of networking being part of an institution like WWI. They felt with over 1500 WWI students working in the Industry they have a strong network of like-minded professionals and encouraged the current students to build on this and take advantage of a professional platform like Whistling Woods International.