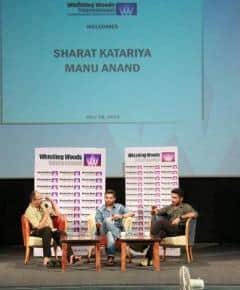 Whistling Woods International (WWI) has always set the platform for the next-gen filmmakers to interact with industry professionals through the medium of Film Forum. This week, post the screening of highly acclaimed film of 2015, 'Dum Laga Ke Haisha', new age director Sharat Katariya, and cinematographer Manu Anand shared their experience with over 400 students of WWI. In an engaging interaction, they shared the nuances and educated the students about making a subtle yet beautiful movie.
Explaining the true origins of Dum Laga Ke Haisha, Sharat Kataritya said, "I wanted to make a film that nobody should see. Not restricting within the set barriers of what an entertaining film is known for, I wanted to make an honest film."
"The film's idea originated from a simple calendar that I saw at my friend's place. And after every possible rejection, the film finally released as a subtle yet beautiful story of a couple", he further added.
Manu Anand shared his experiences from the sets of Dum Laga Ke Haisha, from narrowing on Haridwar as the final location, the colour palette of the film to the difficulties faced while shooting the film. He also encouraged students to breakthrough the shell of classical shot divisions and explore innovative ways to visually express the script.
He also shared interesting snippets on lighting, while explaining the importance of Production Designer and the Costume Designer being in sync with each other's work that lends to the overall look and feel of the film.
The students received the best of both the Director and Cinematographer as they struck a chord with them. The interaction between them and the students was contagious and their exceptional knowledge about filmmaking made the masterclass highly interactive, fun to listen to and educational as well.
By the close of the session, the students had a lot to take back with them in terms of the technical knowledge of filmmaking, but it was the beautiful message of the film that motivated all the students – Love yourself for the way you are and accept others for who they are.
Meghna Ghai Puri, President, Whistling Woods International said, "WWI takes pride in hosting the Film Forum for our students, which has grown exponentially over the years. We ensure the screening of best of films from various genres, and industry expert interactions for our students. This not only helps our students to take away a lot of knowledge but also stay updated with changing industry norms and trends."