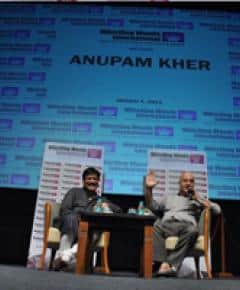 Anupam Kher engaged students in an interactive session while describing his over four-decade-old journey in the film industry.
The auditorium at Whistling Woods International was abuzz with enthusiasm and energy as India's leading actor Padma Shree Anupam Kher conducted an interesting session with the students and discussed his experience and journey in the film industry over the last 42 years. This was post the screening of his critically-acclaimed movie, 'Maine Gandhi Ko Nahin Mara' co-starring Urmila Matondkar.
Being one of Asia's largest creative schools, Whistling Woods International conducts weekly forum discussions as a part of the industry interface they provide Film, Media and Fashion students. This session with Anupam Kher was a part of this activity.
"We have always believed in building a media school which is well-connected with the Industry. Through these Master Classes students not only gain the confidence before they enter but also learn a lot from the practical knowledge of veteran actors and filmmakers. Our students are fortunate to get a chance to interact with Anupam Kher, a Filmfare award-winning actor with experience of working in 483 movies till date" said Meghna Ghai Puri, President – Whistling Woods International.
Well-known for his versatility as an actor, Anupam Kher was at his comic best while interacting with the students. He blended humour with knowledge and engaged the students as he explained the nuances of acting, challenges the profession brings with it, and ways to make the most out of one's journey.
Speaking on the occasion of master class, Anupam Kher remarked, "I am a teacher myself and I love connecting with students. This master class at Whistling Woods gave me a chance to share my experiences and observations with young talent. It was refreshing and fun as I relived many crucial moments of my life today while talking to these kids."
The Film Forum screenings and Master Classes are one of the sustained initiatives that Whistling Woods has been taking since its inception. The film is showcased to the students a day prior, and on the day of the Master Class the film-maker discusses the 'script to screen' journey of the film.