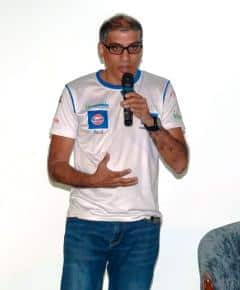 Life Lessons by Anil Srivatsa at guest session hosted by WWI School of Media & Communication
Whistling Woods International School of Media & Communication (SMC) hosted an interactive masterclass session with a life coach, public speaker and entrepreneur – Anil Srivatsa this week. The social change catalyst, whose career graph has often been referred to be the perfect blend of the eclectic and creative, upheld the importance of organ donation and the benefits it possesses for humanity.
While interacting with the eager students of SMC department, Anil Srivatsa shared the touching story of how he saved the life of his brother by donating his kidney and the difficulties faced thereon. He went on to discuss the negative mindset people usually adopted towards organ donation, and shared, "Saying NO is easy but saying YES is difficult!" Highlighting the perils of organ donation – how women are forced to give their organs for their men, and the complicated legal procedure that one has to undergo, Anil Srivatsa urged future media professionals to utilise the powerful and impactful means of cinema and media to change the perception and spread its awareness in the world.