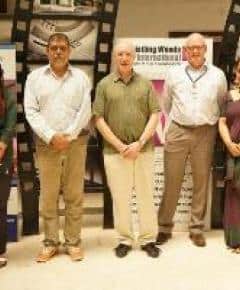 WWI Masterclass with Prof. Richard Peña was an extremely amazing and informative session. At the session, Prof. Peña shared with the students the history of Hollywood and how films evolved over the era and spread as a medium of disseminating information across boundaries through its audio-visual story-telling format.
The documentary, 'The Salt of the Earth' was also screened as part of the WWI Masterclass session, which is an independently produced film by Paul Jarrico, directed by Herbert J. Biberman and written by Michael Wilson. At the masterclass, Prof. Peña shared with our students the fact that the makers of this film were among the "Hollywood Ten", who were blacklisted by the Hollywood establishment citing their involvement with communist politics. Two of the only five professional actors in the film, Will Geer and Rosaura Revueltas were also among the "Hollywood Ten".
While discussing 'The Salt Of The Earth' with our student, Prof. Peña shared insight and snippets from the making of the film. One of the most striking facts about this film was that this is one of the first films to portray the emergence of labour equality, gender equality and feminist social and political point of view.
'The Salt Of The Earth' is also the only American film that was openly suppressed by the studios and Hollywood unions, and as a result only 12 out of 28,000 American movie theaters agreed to run it, that too for just a day or two. Peña shared how the movie got a second life when it was rediscovered in the 60s and inspired a cult following of leftists, feminists, Latinos, historians and film buffs. The film was being screened in film schools, union halls and women's centers. Peña shared his experience of watching this film as a student at the Harvard University and how Jarrico marveled at the reaction that the film garnered. Peña said, "Post the screening there was a 10 minutes long standing ovation and applaud by the audience. Seeing that an overwhelmed Jarrico had quipped, "Where were you guys when we needed you.""
At the session, Prof. Peña also shared his experience of dealing with the U.S. Immigration center, which refused a visa to the much acclaimed filmmaker, Abbas Kiarostami, for being an Iranian citizen. Pena as the director of the New York Film Festival personally invited Kiarostami to attend the session and was disheartened to experience how politics is emerging as a ruling factor even in the creative sphere of things. While talking about the same, Prof. Peña shared his thoughts on how politics as a dominating factor is creating personal bias in the mind of the masses by overlooking the creative genius of a person, which transcends his caste, race or religion.