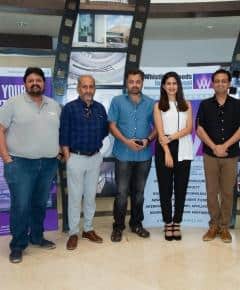 REAL TO REEL – THE STORY OF THE FIRST MARATHI SUPERSTAR UNVEILS DURING THE MASTERCLASS AT WHISTLING WOODS INTERNATIONAL
~ The masterclass hosted the talented team of the highly acclaimed biopic, Ani… Dr. Kashinath Ghanekar ~
They say legends are not born, they are created. And an opportunity to interact with the ones who portray and bring alive these legends on screen, is beyond ordinary. The masterclass at Whistling Woods International welcomed the celebrated team of 'Ani…. Dr. Kashinath Ghanekar'. The overwhelmed and eager students of the institute bore witness to some rare insights into the making of the superhit film, dedicated to the first superstar of Marathi film industry.
Moderating the session, Anjum Rajabali, HOD, Screenwriting Department, WWI, discussed the various aspects of filmmaking with the cast and crew of the film – Abhijeet Deshpande – Actor, Writer and Director, Subodh Bhave – Actor, Writer and Director, Nikhil Sane, Producer and Actor Vaidehi Parshurami.
While interacting with students, Abhijeet Deshpande, cited personal 'insecurities' to be the driving force to deliver better and set new benchmarks. Further, in the discussion, he emphasised on the effective ways of scriptwriting and added, "Every script has to be rewritten several times before executing it. This is a crucial part of the filmmaking process."
The award-winning actor Subodh Bhave who won the hearts of the audience with his rock solid performance in the film, mentioned how he was convinced by and trusted the "actor in Abhijeet Deshpande and used it as a reference" while playing the role of the Dr. Kashinath Ghanekar. Discussing characterisation with the students, he shared, "Every character is different, there is no methodical approach to it."
Nikhil Sane in conversation with Anjum Rajabali shared the two most important factors while considering a script – personal story experience – how the script appeals to his sensibilities and acknowledging the feedback by the younger generation. Vaidehi Parshurami discussed the challenges faced by her to portray two distinct characters in the film and how she addressed the concern.
The session marked its end with Anjum Rajabali presenting a token of appreciation to the guests, amidst a thunderous round of applause from the appreciative audience.