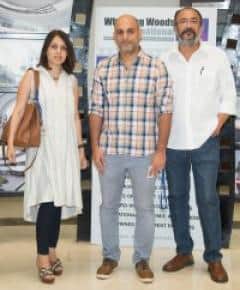 "Self-Conviction is the Key to a Successful Script", Shared Zeenat Lakhani While Interacting with the Students of Whistling Woods International
Is there any specific formula for the success of a film? What does it take to convert a great idea into a good script? What role does self-conviction play in executing a good script? The essence of good script writing and much more were discussed by the director and scriptwriter of the film, 'Hindi Medium', Saket Chaudhary and co-writer Zeenat Lakhani at the film forum and masterclass held at Whistling Woods International (WWI).
Saket, who have contributed to critically-acclaimed films like, 'Pyaar Ke Side Effects' and its sequel, 'Shaadi Ke Side Effects' conducted an in-depth session highlighting the essence of scriptwriting. He went on to share his personal experiences – what attracted him towards cinema, his struggle with storytelling and how he learnt from his mistakes. He shared, "I have been writing since school. However, during my stint at Pune University, I took membership at Film Archives and that's where my interest in cinema grew."
While discussing the various genres of scriptwriting, the talented director mentioned, "Writing screenplay is tough, however writing comedy or horror is tougher" as the writer receives 'very straight feedback' from the viewers. However, while writing other genres, one can still 'take a bit of levy'.
He also mentioned how the movie Ashok's failure provided him tremendous learning opportunities. The ill performance of the film made him realize, "I want to be a director only if somebody gives me a good script. I realized that nobody will give me a good script, so I need to learn how to write a good script."
Zeenat Lakhani, co-writer, while sharing various nuances of scriptwriting mentioned, "Hindi Medium did well, but we do not have a formula for films success". She emphasized that how she took reference from real-life situations while drafting the script. She added how self-conviction plays the most important role in scriptwriting. She added, "You need to be convinced of what to write, you need to believe in it……you are the first audience of your script…you need to enjoy it, however, even a minute doubt gets amplified on screen and the onus falls on the scriptwriter."
The informative session ended with Anjum Rajabali, Head of Screenwriting at WWI felicitating the team of Hindi Medium with a token of appreciation amidst thunderous applause.