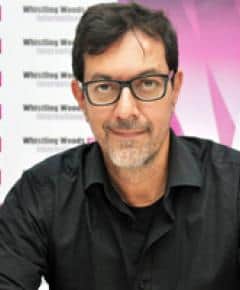 Whistling Woods International hosts the team of Ankhon Dekhi for a Master Class with students:
Rajat Kapoor along with the team shared their experience of making an off-beat critically acclaimed movie
As a part of the regular interface with the industry, one of Asia's largest creative schools Whistling Woods International, hosted the team of critically acclaimed movie Ankhon Dekhi at its campus. The team of the movie including the award-winning director Rajat Kapoor, Rafey Mahmood (Cinematographer), Sagar Desai (Music Director), and Meenal Agarwal (Production Designer). They shared their experiences while filming the movie.
Meghna Ghai Puri, President, WWI said, "We always encourage alternate cinema and would like our students to explore various unconventional genres. We are glad to host the team of Ankhon Dekhi and share their expertise with our students."
Through the master class, the team envisaged key highlights of filmmaking to the students. The guest speakers discussed in detail about the journey of Ankhon Dekhi – from idea to the screen. They enlightened the students about technical, aesthetic and emotional aspects of narrating a story on celluloid. Not only was the script written in 15 days, but throughout the shoot, it was mostly 'spontaneous' act on the sets. Even with spontaneous acts on set and post production, the movie remained 95% similar to the script.
Speaking at the occasion, Rajat Kapoor added, "I am happy that I got the opportunity to interact with the students at WWI. It was a refreshing experience to know their perspective and answer their queries about the movie."
Students asked the team questions about the movie and the process that went behind making it. They also asked about their personal plans and opinions in connection to the industry.