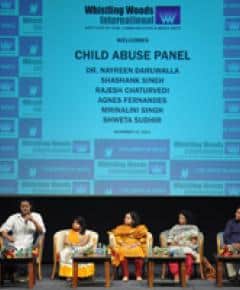 Students of Whistling Woods International organized NGO Seminar to raise awareness on "Children In Need"
Further to various initiatives by government to raise awareness about Child Welfare, Whistling Woods International School of Media and Communication hosted a "NGO Seminar" which highlighted various topics under the principal theme, "Children In Need". This student-led initiative to organize a congregation of torchbearers intends to provoke thoughts and gauge feasible outcomes pertaining to the present scenario of children using the new media. The seminar was held at WWI's campus between 11 am and 5.30 pm today.
This unique initiative to synergize with NGOs which work towards empowering lesser privileged children was inaugurated by Subhash Ghai, Chairman, WWI, along with renowned filmmaker and activist, Amole Gupte, by lighting the lamp and sharing the keynote address.
Amole Gupte said, "It is important to ensure that children are given a secure childhood in terms of education, nutrition, and holistic welfare. We as a society need to be more vigilant and sensitive towards the issues faced by children, as they are the country's future. I am happy to see such forums being held at an international institute like WWI, and hope to see such efforts across various platforms."
The seminar comprised of 3 separate panel discussions, supported by the experts hailing from various backgrounds including the social sector, medicine, journalism, education and legal fraternity. The topics for panel discussion were "Child Education", "Child Welfare & Nutrition" and "Child Abuse".
The "Child Abuse" panel discussed issues like child trauma, child psychology and child trafficking. Panelists from various NGOs like SNEHA, Salaam Baalak Trust and Arpan, spoke about changing attitudes and provisions for children in need of support. The panel discussion on "Child Welfare & Nutrition" shed light on the provision of food, medicine and hygiene as well as shelter for every child. Panelists including Pratima Jamwal from Salaam Baalak Trust, and Vrushali Naik from Mobile Creches shared their insights and experiences of working on these issues.
The discussion on "Child Education" focused on topics like the importance of education in a child's life, the right to education for all children and how education is to be provided, even for the most under-privileged children. The panelists who spoke on this topic included Kreeanne Rabadi from CRY, Urmila Prabhu from Parisar Asha, Nitesh Davande from Sevadham-Pune, Benita Fernando from SNEHA, Ravi Nair from BASF, and Poorvi Shah from Akanksha.
Speaking about the initiative, Subhash Ghai said, "WWI has always participated actively to bring a change in the society by discussing solutions to issues that plague our country. The discussions at the seminar have provided a true reflection of the current scenario as well as explored options for better efforts in future. Students have been greatly inspired and look forward to associate with these organizations."