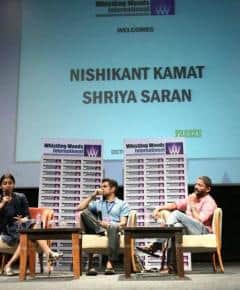 WWI Masterclass with Nishikant Kamat & Shriya Saran:
"Every film has a heartbeat and a rhythm. You just have to get it" says Nishikant Kamat as he addressed our students at the WWI Masterclass.
This week, our students were extremely delighted to have Nishikant Kamat and Shriya Saran for the WWI Masterclass. The twisty thriller movie 'Drishyam' was screened at the WWI Auditorium prior to the Interactive session with the director and the actor. Post the screening, both Nishikant Kamat & Shriya Saran interacted with the students by sharing their experiences.
The students were all ears as Nishikant spoke about his journey from starting fresh as a fifth assistant director in his early twenties, later moving on to being an editor, then a director for Television content and then becoming a writer few years later and an accomplished director today. "I have always followed my instincts and loved my cinema," quoted Nishikant. He also enlightened the students on various aspects that affect the outcome of the film which included the target audience, casting the right face, the location, the appearances and more.
Shriya who asserts that she has been fortunate to be a part of various language films expressed her gratitude towards her work and directors who have contributed to her learning to be a better actor. She advised the students to analyse their strengths and to strive to overcome their weaknesses and said, "Don't be relaxed. Be confident about yourself and believe in your uniqueness. You will get good work. Never stop believing in yourself."
While addressing the aspiring actors, Nishikant also added, "Just feel. Don't try hard to express. The camera is a powerful tool that will capture it all."
The masterclass session was extremely rewarding for the students. They were pleased to have all their queries answered.