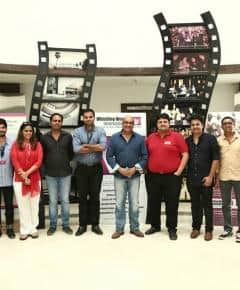 WWI Alumni back in the campus as Mentors – The Team of Gujjubhai The Great:
It was a moment of great pride for us as Meghna Ghai Puri welcomed its alumni, Ishaan Randeria, the director of the highest grossing film in the Gujarati film industry, 'Gujjubhai the Great'. Ishaan was accompanied by the film's lead actor, Siddharth Randeria also well known as the comedy king of Gujarat, cinematographer Himanshu Dubey, editor Tushar Parekh, WWI faculty & VFX supervisor Zenish Mehta, associate director Ankit Arya & the sound designers Suraj Bardia, Yatrik Dave, Vaibhav Ambole, who are also WWI alumni.
Almost 350 WWI students were agog & excited to hear from the alumni who were once seated in the same auditorium as WWI students and have now marked their names successfully in the industry. Ishaan who graduated in the year 2010 spoke about his journey post graduation, from assisting the directors to directing Ad films to moving on to his first independent film. He expressed his gratitude towards WWI for all the knowledge. He stated that the experience he gained during diploma film shoots helped him to a great extend as he stepped out into the industry.
Veteran actor, Siddharth Randeria, who performs almost 300 stage plays in a year & has won multiple awards as a writer, actor & director for Gujarati comedy plays shared the experiences of his 35 years of career in theatre. He explained the differences between a stage play & a film and also spoke about his fears & risks involved during the making of a film. He also shared that he was his initially sceptical when my son, Ishaan said he has decided to choose film as his career. He said, "He had the option to study in India or abroad. But when he brought me to WWI, after seeing the campus and facilities and the faculty here, I was convinced that studying here will prepare my son for making a career in the film industry."
When asked about he being directed by his son, he said that he had full confidence in him & further added, "I believed my son was launching me & that made things easier."
The session uplifted the spirit of the students. Each one was motivated to dream big & see themselves coming back to their alma mater to address the future batches.