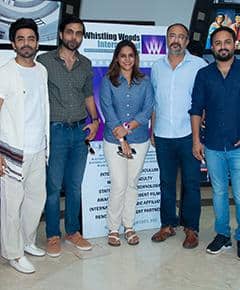 "Consider short films as a stepping stone before foraying into commercial cinema", opined Amar Kaushik in a masterclass at Whistling Woods International
It's no surprise that the students of Whistling Woods International (WWI) are exposed to some of the best names in the domain of filmmaking, animation, media & entertainment, fashion, design, and various other areas. Asia's premier Film, Communication, and Creative Arts institute host unique masterclasses for the students to broaden the horizon of knowledge, gain first-hand understanding and sharpen their skill set. The latest masterclass welcomed the celebrated director Amar Kaushik; Sumit Aroraa, dialogue writer and actors Aparshakti Khurrana and
Abhishek Banerjee, who shared their thrilling experience of creating the applauded and commercially successful film – Stree.
The session moderated by Anjum Rajabali, HOD, Screenwriting, WWI started with a brief introduction of the team Stree. Speaking about the film, Amar Kaushik highlighted that while rejoicing success, one must focus to understand and evaluate their work and "seek an opinion about the film and what could have been done better."
Further in the session, while answering about the important factors to be considered during filmmaking, Amar Kaushik narrated his journey in the world of cinema – from the days of him being an assistant director, writing a script to releasing his short film 'Aaba', with a mere three-member team. He shared how he conducted an exclusive preview for the directors and producers in the industry, in an effort to understand and evaluate their feedback before targeting commercial cinema. Discussing the importance of short films, he advised the students to consider them as "stepping stones." He further added, "Making a short film will give you an idea about where you stand!"
While interacting with Anjum Rajabali, Sumit Aroraa narrated his journey of starting a career in the field of journalism and then foraying into scriptwriting through TV. He stated, "I started working with TV and the platform has given me a chance to explore and help me enhance my writing skills." He further added, "One should always have their goals set and should work hard to achieve them, no matter what!"
As Aparshakti Khurrana conferred about characterisation, he said, "First and foremost, I find out the common traits between me and the character." Elaborating on this, he added "Like in the film Dangal in which I play the role of a failed sports person, I could relate to it, as in reality I am a failed sports person, hence could portray it well. So, identifying a common ground between the reel and real, helps get the characters right."
Answering the curious students, Abhishek Banerjee cited the importance of chemistry and highlighted that the team should spend time with each other "and the rest comes naturally."
Speaking about WWI, Amar Kaushik said, "The students of WWI have hands-on experience on passing out from the institute. The quality of students is extremely good, as they are very well aware of the industry. Also they need not start from the basics, which makes working with them enjoyable, as they already know about cinema, from direction to screenwriting."
The session ended with a huge round of applause from the engrossed students and a vote of thanks by the moderator.