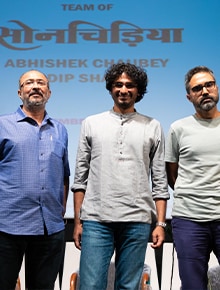 "Films today are the result of months of research and understanding of the environment", shared team of Sonchiriya at WWI Masterclass
Whistling Woods International (WWI), Asia's premier Film, Communication and Creative Arts institute, hosted an interactive session for its students with the creative minds behind the well-appreciated film, 'Sonchiriya'. During the masterclass, the students were presented upon with an opportunity to seek insights on various nuances and intricacies of filmmaking from the talented guests.
The session moderated by Mr. Anjum Rajabali, Head of Screenwriting Department, WWI, witnessed the writer and director, Mr. Abhishek Chaubey and writer, Mr. Sudip Sharma share their insights and thoughts behind the conceptualisation and execution of the film. Mr. Abhishek Chaubey added, "The initial thought for the movie came from the need to do something different. The film that we see today is a product of months of research and understanding of the environment in which the movie is shot, which was in Chambal, Rajasthan."
As the session progressed the creative duo discussed the finer aspects of filmmaking – elaborating on topics ranging from production to casting. They mutually agreed on how attention to minute details play an important role in showcasing the finished product. While further narrating about the script and its influence on the movie, Mr. Abhishek Chaubey added, "Sudip and I decided to make something which is simpler and leaner in terms of the story angle. Having done our research about bandits, we were extremely fascinated by their life. We spent almost three weeks at the location, researching and collecting first-hand data that could help build the movie."
Answering to an eager student's question on film marketing and its direct impact on the film success, Mr. Sudip Sharma responded by saying, "Our job is to write the film and create it, if we concentrate on marketing, the results will not turn out to be the same."
Discussing the importance of casting to the enthusiastic audience, Mr. Abhishek Chaubey cited, "We wanted someone who can justify the role, someone who is a well-known face and equally successful at the box office. Sushant Singh Rajput was our first and only choice. He hails from Patna, has been exposed to the other parts of India and sports a desi personality. Nonetheless, it was still very tough for him – mentally and physically to execute the role. He gave a lot to the film."
As the event concluded, Mr. Anjum Rajabali honoured the guests with a token of appreciation amidst the applause of an appreciative audience.