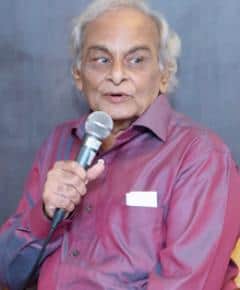 "You have to be very honest with your work and always welcome criticism, because you will learn more from it", shared the legendary music composer, Anandji Virji Shah in an interactive session, hosted by WWI
The prolific Indian music composer Anandji Virji Shah from the renowned duo 'Kalyanji – Anandji' has rendered an ocean of iconic timeless songs to the Hindi cinema. The legendary music composer, in a candid session at Whistling Woods International (WWI), shared his valuable insights and experiences with the budding music and film aspirants.
The session commenced with Anandji and Subhash Ghai reminiscing about their initial acquaintance and collaborations. After a stint of heartfelt conversation, the music guru enlightened the students about the technicalities involved in music composition. He explained the key to creating noteworthy music for a movie was to essentially understand its script.
In addition, Anandji discussed the difference between the procedure of music composition during his times and the present era. He said, "In my time the best part was that all the musicians came together and tried different variations." Highlighting the key aspect of a song, Anandji explained, "Taal is the most important thing in any song and other aspects like location, costume, mood, script among others are also equally important."
As the session progressed, the versatile musician advised the students to be consistent and curious learners. He encouraged them to follow the mantra, 'keep asking questions.' Further, in the conversation, Anandji shared his inputs on the shift of music culture in India – from classical to contemporary.
The session then opened to a Q&A round where Anandji addressed to the queries proposed by the students. As a departing word of advice to the students, the applauded musician said, "You have to be very honest with your work and always welcome criticism because you will learn more and more from it."
Amidst a burst of applause and cheer, Anandji Virji Shah was presented with a token of appreciation by Subhash Ghai.