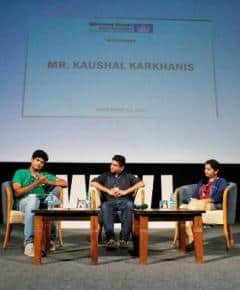 "Travel exotic and live simple," said popular travel blogger Kaushal Karkhanis to the SMC students at Whistling Woods International
~The guest speaker spoke about his journey and shared some inspiring anecdotes with the School of Media & Communication students ~
The students of School of Media & Communication (SMC), Whistling Woods International (WWI) participated in an engaging and informative session by Kaushal Karkhanis, the famous travel blogger also known as the Exotic Gringo. The masterclass commenced with Kaushal sharing his success story, which began with him taking a bold step of quitting his well-paying job as a designer at Microsoft.
Kaushal has been an inspiring role model for many young bloggers in India. He spoke about making the move out of the corporate sector to pursue his passion of traveling around the world. His first solo trip was to Goa, where he spent 4 months. However, his trip wasn't akin to how most tourists travel around the state. He met and lived with the locals. While visiting a place or country, he lives like a local, this is how he prefers to travel. He also never visits the famous tourist attractions in any country where he travels. He shared, "Travel is about people first and place later. Meeting locals always helps you discover the city more."
In addition to sharing tips about being a world-class traveler, the blogger also spoke at length about creating an interesting blog. He stressed on the importance of quality content on the blog as opposed to the number of followers. Kaushal shed some light on two of his most important principles: persistence and dedication, which have contributed in bringing him success in the field. While enlightening the students on the principles of blogging, he spoke to them about the errors he made and the challenges he faced, when developing his blog.
He concluded the session with an important advice to the students, he said, "Focus on fulfilling your responsibilities and prioritizing, in whichever field you work in the future." Speaking about his experience at WWI, he shared, "I am happy to be here and connect with a group of young and enthusiastic students. I wish them luck for their future endeavours."
The masterclass session ended with a thundering applause from over 300 students in attendance for the session at WWI.