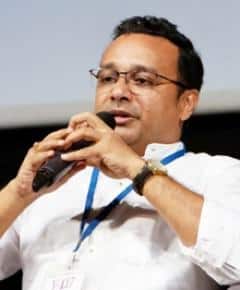 One man, many talents – Sudipto Das awakened a philosophical ethos among the students of WWI
Since inception, Whistling Woods International (WWI) has endeavoured to nurture the growth of its students. To enhance the process of learning, a candid yet insightful masterclass with Sudipto Das was organised by the institute for its School of Media & Communication students. Over the years Sudipto has garnered learnings in various sectors, which led him to accomplish himself as an Indian author, IT professional, musician, columnist, a speaker at TED events and a veteran in the semi-conductor industry. In addition, he is also the Co-founder of two start-ups companies – Mindlance Technologies and Insilico.
The session commenced as Sudipto narrated his process of managing his interests in two variant sectors – one that embraced his technological curiosity and the other his artistic passion. He explained how two sides of a human brain controlled the logical and illogical choices. Emphasizing further on this subject he said, "An artist or a filmmaker who is not logical is as bad as a non-artistic engineer."
While highlighting Indian History as a point of reference for his books, Sudipto revealed about his disinterest in the subject as a child. He mentioned that movies and non-academic novels inspired by historical events primarily inclined him towards the subject. The versatile expert also educated the students about the significance of in-depth research. On a similar note, Sudipto elaborated on the importance and the power of marketing. He said, "Marketing is the answer to reach out to the people. If we don't market, we won't be sellable."
Having shared insights about the process of writing a book, Sudipto also discussed the technicalities involved in launching a book. He advised the students to reap benefits from the technological advancements and move towards launching e-books instead of hard-covers. On making conscious choices, the exemplary writer preached, "Thinking about physical book is a social and natural disaster. So we have to move to e-book or other avenues of media, which are eco-friendly." Sudipto also counselled the aspiring writers to initially seek an honest opinion about the book from family members or close friends and later reach out to publishers. Lastly, Sudipto encouraged the students to keep faith in their work and not be de-moralised by rejections.
The session marked its end with an interactive Q and A session with the curious learners of WWI School of Media & Communication. With a thunderous cheer and applause, the esteemed guest was felicitated with a token of appreciation.