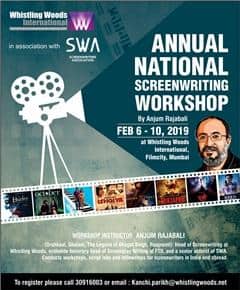 'Scripting The Next Generation Of Writers' – Whistling Woods International's 9th Screenwriting Workshop Mesmerises Participants
Whistling Woods International (WWI), Asia's premier Film, Communication and Creative Arts institute, conducted a five-day screenwriting workshop in association with Screenwriters Association India for its filmmaking students and other participants, from February 6-10, 2019, at their campus in Filmcity, Goregaon East. Hosted by industry stalwart and Head of Department – Screenwriting at WWI, Anjum Rajabali, the workshop aimed at developing and further enhancing the screenwriting skills of the participants.
The workshop was a golden opportunity for all the aspiring writers, and also a useful workshop for professional writers to further improvise and strengthen their understanding of the craft in detail, with the changing needs of writing. The interactive workshop began with Anjum Rajabali discussing the basics of the profession. He shared the crucial elements required in any script, stating, "Every scene needs to have a purpose which affects the story, and all of these scenes need to work together to create a climax that stuns the audience." With day two dawning in, the session had discussions on more complex subjects. Some key discussion points were; structuring the screenplay, character choice, and discussions, further complemented by sessions on psychology and mythology and its impact on the script and how it ideally should be presented in the form of cinema.
On the third day, the audience was treated to a session with critically-acclaimed filmmaker, Vishal Bhardwaj, who has made hit films like Maqbool, Omkara, and Haider, inspired from Shakespeare's classics. He shared his experiences with aspirants and answered every query in detail. He capped the session by saying, "Directors need to have great endurance to carry out such a strenuous job. You really need to carry that kind of passion to be a director." The second half of the day featured a panel discussion with web series writers Smita Singh (Sacred Games), Puneet Krishna (Mirzapur), and Hardik Mehta (Story of My Assassins), centred on writing for web series. The team recommended watching shows such as Game of Thrones for inspiration. Smita adviced, "While writing web series, you can't delay gratification."
The fourth day saw screenwriters like Sriram Raghavan (Andhadhun) and Pooja Surti (Badlapur), grace the stage with Anjum Rajabali. The session focused on the collaborative process between writers and the ways in which one can overcome the dreaded creative block. Raghavan added, "All writing is essentially rewriting. The details will come but the line has to be strong."
As the final day dawned, leading screenwriters Bhavani Iyer (Raazi), Sumit Arora (Stree), Jyoti Kapoor (Badhaai Ho), Juhi Chaturvedi (October, Piku), and Sabrina Dhawan (Monsoon Wedding), hosted individual sessions. Juhi discussed juggling her career from advertising to screenwriting, and the way one job influenced the other, while Sabrina shared her experiences of writing Monsoon Wedding. According to Juhi, "We get inspired to write characters through our interactions with the people in our lives – there's no better inspiration for scriptwriting than reality."
"I am here for the screenwriting workshop, which is different from others as its conducted by Anjum Rajabali. Being a practicing screenwriter, he is currently working on films and simultaneously teaching, which is remarkable. I think one of the unique things about this workshop is that it is open for people from every walk of life and not limited to WWI students, giving opportunities to people like me to attend and learn", said Naveen Chandra, who participated in the workshop at WWI.
After five days of wisdom and learning, the attendees showed their gratitude to the visiting dignitaries with a thunderous applause.