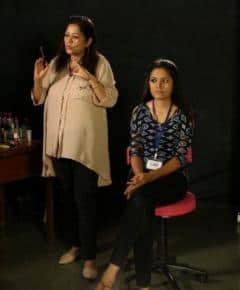 Makeup and hairstyling are imperative aspects of Fashion. A beautiful garment would fall flat if not accentuated by the right makeup and hair-do.
This workshop was organized with the Creative National Directors of Lakmé Salon, Ms. Sushma Khan, (Makeup Artist) and Mr. Shailesh Moolya (Hair Stylist).
At the session, the attendees, got to learn tips and techniques on sporting the right makeup and hair style for everyday and festive occassions. They were also guided on food habits that would help get healthier and glowing skin and hair.