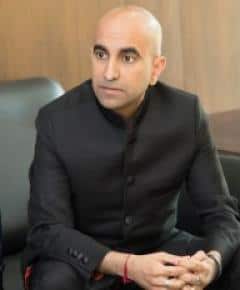 "Timing to a comedian is like rhythm to a dancer", said American comedian Rajiv Satyal at an interactive workshop held at Whistling Woods International
Whistling Woods International (WWI) witnessed yet another astounding workshop this year with Los Angeles-based comedian and host, Rajiv Satyal. The workshop for aspiring actors on understanding the art of stand-up comedy was jointly organized by the U.S. Consulate General Mumbai and WWI.
Known for his TV-clean acts, Rajiv is one of the very few comedians who has had the privilege of performing the opening act for the Indian Prime Minister, Narendra Modi, in front of 17,000 people. Rajiv hosts his podcast, The TanGent Show, on which he has interviewed several celebrities and has been featured on Netflix, Zee TV, The New York Times, The Wall Street Journal, Variety, The Times of India, The Huffington Post, and The LA Times amongst others.
The workshop started with a reciprocal session between Rajiv Satyal and the students of WWI – Actors' Studio, wherein the comedian shared his success story and how he made it big in the field of stand-up comedy. He narrated stories from his teenage days in the United States and what it meant to be Indian in America, discussed how he started writing the script based on real-life instances, and how his brother and relationships have been a great influence on him, helping him nurture his career as a comedian.
While answering one of the questions from the intrigued students of WWI, Rajiv said, "Timing to a comedian is like a rhythm to a dancer." He further added, "Be your own critic as it helps you understand the audience better." He also advised the students of WWI, "as an artist always create what you wish existed."
Speaking about the workshop, Meghna Ghai Puri, President, WWI said, "This session was specially designed to educate the aspiring students about the comic timing and improvisational comedy. This experience was significantly different as a very distinct genre of American-style comedy was highlighted to the students through an informative process."
Rajiv Satyal was bestowed with a token of appreciation by Arvind Pandey, Head of Department, Actors' Studio.