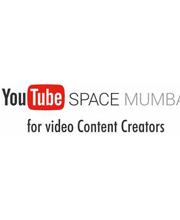 YouTube has partnered with Whistling Woods International to set up 'YouTube Space' – a collaboration & production facility for YouTube content creators.
State-of-the-art facilities & Academic expertise will let YouTube creators learn more about filmmaking, connect with others in the industry, and create better quality and more ambitious videos.
YouTube & Whistling Woods International announced the opening of YouTube Space Mumbai at Whistling Woods International (WWI), a state-of-the-art collaboration and production facility for YouTube video creators. Slated to open by 2015 year-end, the Space will allow YouTube creators and our students to make better their YouTube content, launch even more ambitious projects, learn about video production, and collaborate with other creators.
YouTube Space Mumbai is the seventh YouTube Space to open worldwide and the second in Asia, after YouTube Spaces in Tokyo, Los Angeles, London, New York, Brazil, and Berlin. The facilities are designed so that creators can produce original digital video content, all the way from the start of an idea to through to filming, editing, and uploading to YouTube.
The Indian creator scene is one of the world's most vibrant YouTube communities. To support this incredible community of YouTube creators and foster the next generation of Indian talent, YouTube Space team and Whistling Woods International are excited to be partnering with each other. In addition to physical studio space that will be available to students and creators free of charge, YouTube and WWI have been working together to develop curricula to train the next generation of Indian filmmakers to succeed on digital and online media.
David Macdonald, Head of YouTube Spaces Asia Pacific, said, "We are excited to announce the coming of YouTube Space at Whistling Woods International as a way to support the incredible wave of creativity we have seen develop among our Indian YouTube creators over the last few years. The partnership will also empower India's next generation of digital creators to Learn, Connect and Create, since together with students at WWI, they will have access to the latest audio, visual and editing equipment."
Meghna Ghai Puri, President, Whistling Woods International, said, "Whistling Woods International has been an innovative force and leading light in the Indian film & media industries for nearly a decade now. We recognised that the 'Future of Entertainment is Online' and all our Degree & Diploma programs now include 'Content Creation, Audience Development & Monetisation for YouTube' as part of the curriculum. This partnership with YouTube will allow us to further cultivate the creator community in India better, and enable the emergence of the next generation of Indian content creators."